Why are home prices increasing so much?
Courtesy of Keeping Current Matters
Home price appreciation continues to accelerate throughout the USA & especially in the Dallas/Fort Worth area. Today, prices are driven by the simple concept of supply and demand. Pricing of any item is determined by how many items are available compared to how many people want to buy that item. As a result, the strong year-over-year home price appreciation is simple to explain. The demand for housing is up while the supply of homes for sale hovers at historic lows.
Let's use three maps to show how this theory continues to affect the residential real estate market.
Map #1
State-by-state price appreciation reported by the Federal Housing Finance Agency (FHFA) for the first quarter of 2021 compared to the first quarter of 2020.
As the map shows, certain states (colored in red) have appreciated well above the national average of 12.6%.
Map #2
The change in state-by-state inventory levels year-over-year reported by realtor.com.
Comparing the two maps shows a correlation between change in listing inventory and price appreciation in many states. The best examples are Idaho, Utah, and Arizona. Though the correlation is not as easy to see in every state, the overall picture is one of causation.
The reason prices continue to accelerate is that housing inventory is still at all-time lows while demand remains high. However, this may be changing.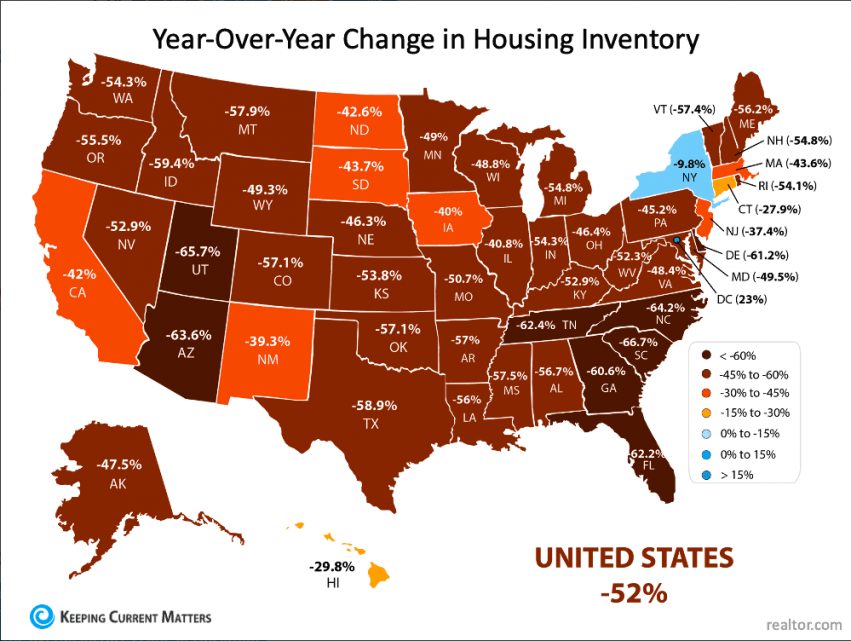 Map #3
State-by-state changes in inventory levels month-over-month reported by realtor.com.
As the map indicates, 39 of the 50 states (plus the District of Columbia) saw increases in inventory over the last month. This may be evidence that homeowners who have been afraid to let buyers in their homes during the pandemic are now putting their houses on the market.
We'll know for certain as we move through the rest of the year.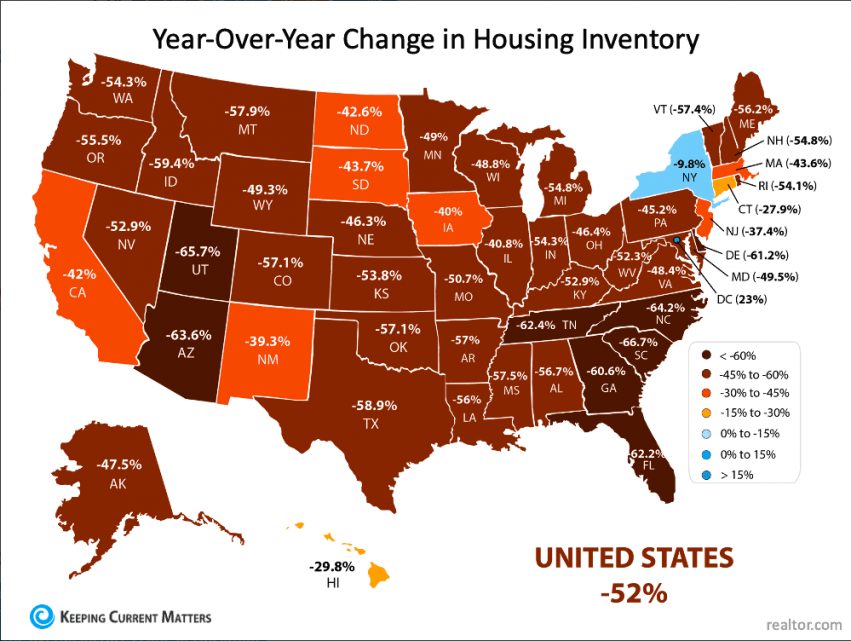 Never Miss a Blog Post
We post new, helpful content geared at answering your questions about selling or buying a home. Enter your email below and never miss a new blog post!
I agree to be contacted by The Tosello Team Realtors with Keller Williams Realty via call, email, and text. To opt-out, you can reply 'STOP' at any time or click the unsubscribe link in the emails. Message and data rates may apply.
We respect your inbox. We only send interesting and relevant emails.
North Texas
The North Texas real estate market has arguably never been hotter, with sellers now routinely getting multiple offers over asking price and terms that are in their favor.
It is a combination of low inventory, low-interest rates and a growing number of people coming to North Texas – is fueling the trend.
Bottom Line

Some are concerned by the rapid price appreciation we've experienced over the last year. The maps above show that the increases were warranted based on great demand and limited supply. Going forward, if the number of homes for sale better aligns with demand, price appreciation will moderate to more historical levels.
Unsure if you should move or wait?
We want you to feel confident about your next steps as a home buyer and/or home seller.
Schedule a call
CLIENT SUCCESS STORY
Meet John & Lynn
"We were busting at the seams! The house we were living in was our starter house. It was great when it was just Lynn and I, but when our two kids came along we quickly realized we needed more space!"
John & Lynn had some hurdles to jump - figure out how to sell their house & buy a new construction home at the same time. They also did all of this during the COVID-19 pandemic!