Numbers Don't Lie – It's Still a Great Time To Sell
Heading into the end of the year, you might wonder if it's still a good time to sell your house. Here's what the latest data from the National Association of Realtors (NAR) says. Housing supply is lower than last year, and home prices are up nationwide. Meanwhile, the average home is selling fast and receiving several offers. Listing now puts your house in the spotlight, meaning it could sell quickly – and for more than you'd expect.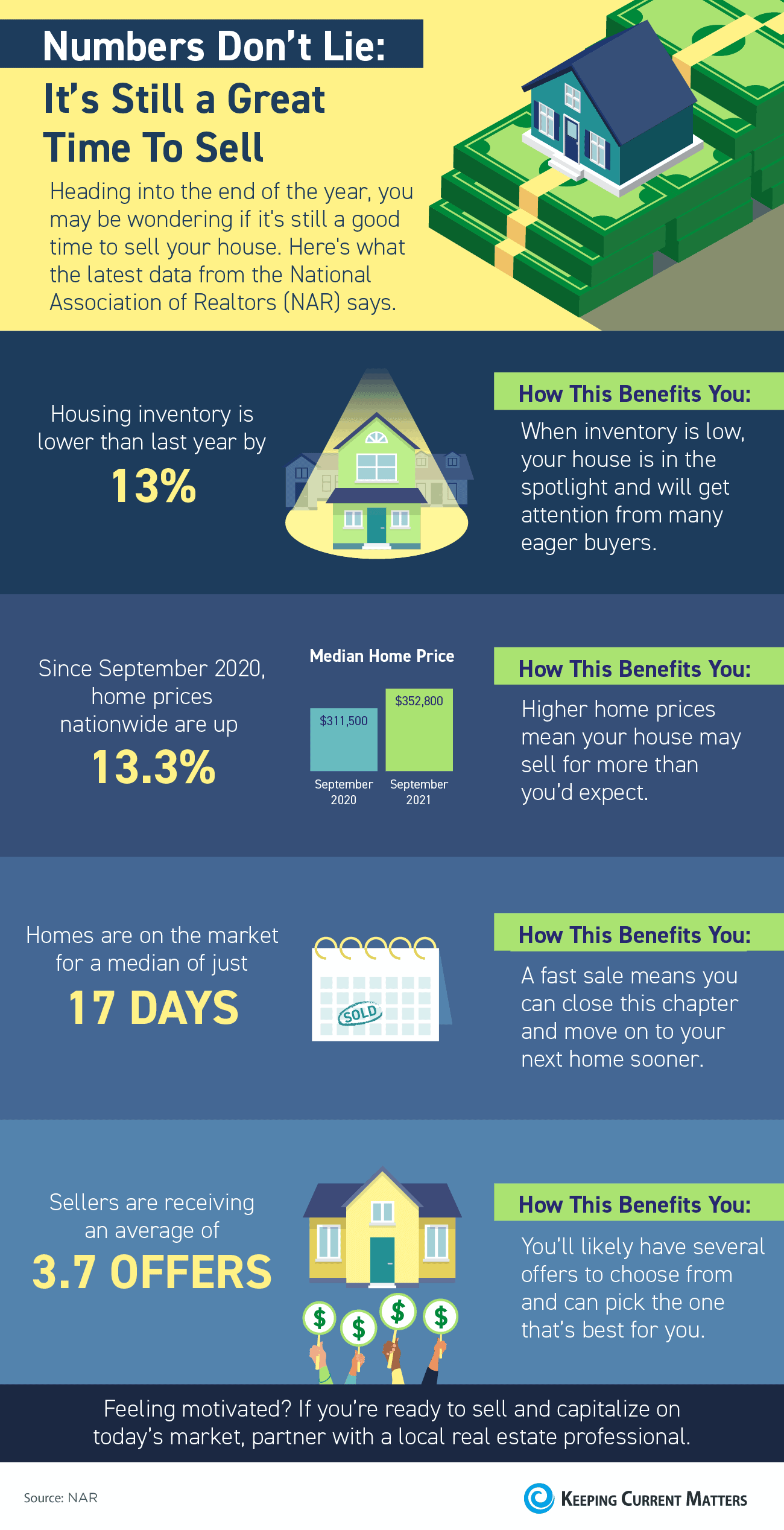 If You Think the Housing Market Will Slow This Winter, Think Again.
From the opportunity to take advantage of today's low mortgage rates to changing homeowner needs, Americans have more motivation than ever to buy a home. According to the experts, buyers are making moves right now, creating an unseasonably strong housing market for this time of year.
As we move into the winter months, here's a look at what several industry leaders have to say about the continued momentum in the current market, and what it means as we head into the early part of next year.
Lawrence Yun, Chief Economist, National Association of Realtors (NAR)
"This solid buying is a testament to demand still being relatively high, as it is occurring during a time when inventory is still markedly low. The notable gain in October assures that total existing-home sales in 2021 will exceed 6 million, which will shape up to be the best performance in 15 years."
The M Report
"The demand for housing in the United States has reached a fever pitch, a trend that opposes the norm of this time of the year when the market cools as the winter months set in."
Mark Fleming, Chief Economist, First American
"Strong demographic demand will continue to act as the wind in the housing market's sails."
What does this mean for the winter housing market?
Buyers are actively in the market, and they're competing for homes to purchase. With the momentum coming out of this fall, all signs point to the winter housing market picking up steam, making it much busier than in a more typical year. And as we've seen in so many ways, 2020 and 2021 were anything but typical in real estate. It looks like 2022 may be joining that list before we know it.
Bottom Line
If you think the housing market will slow down this winter, think again. Whether you're considering buying a home, selling your house, or both – reach out to a local real estate professional to determine if this winter is your best time to make a move too.
There is always a lot to do when selling your home.
Being aware of the current trends is vital so you can prepare your house to attract new owners. Let us handle it for you!
Get Started
Find "The One"
Your dream home awaits! We're here to guide you through the simple steps to a buyer's success.
Time For a Change?
Get excited about your next chapter! We bring patience, compassion, and calmness to what most consider an overwhelming process.
CLIENT SUCCESS STORY
Meet John & Lynn
"We were busting at the seams! The house we were living in was our starter house. It was great when it was just Lynn and I, but when our two kids came along we quickly realized we needed more space!"
John & Lynn had some hurdles to jump - figure out how to sell their house & buy a new construction home at the same time. They also did all of this during the COVID-19 pandemic!